The first stand I made after helping the rancher and his family brand calves was a blank stand. I didn't see a thing until I walked back over the hill top to where I had my truck hidden.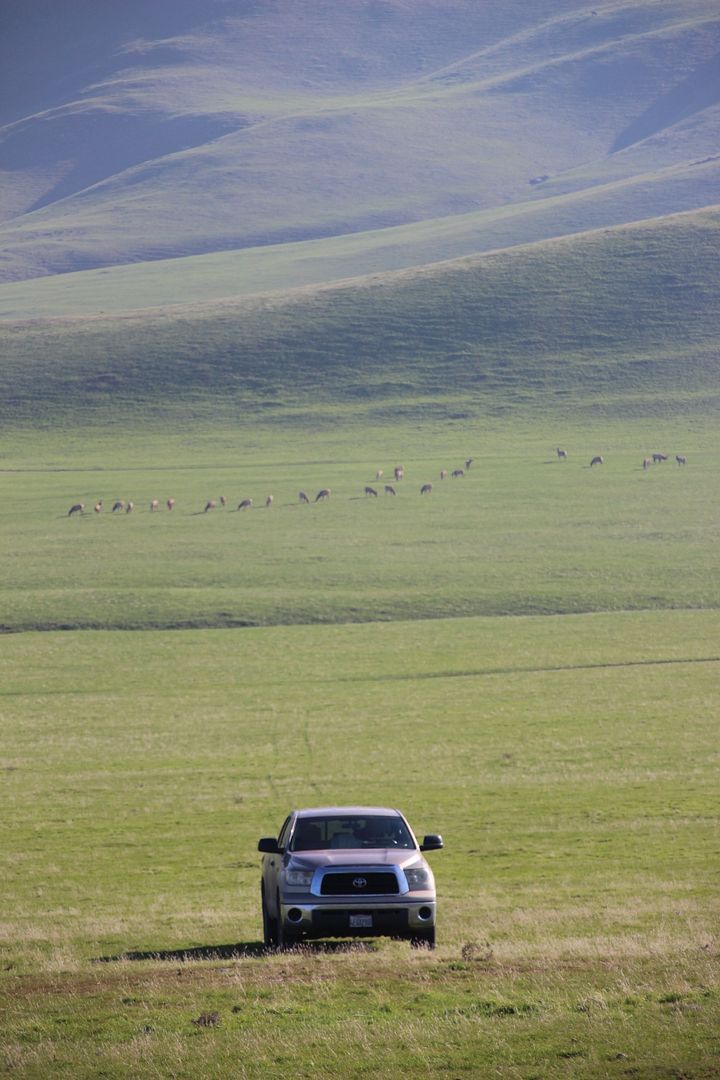 About 26 Tule Elk showed up out past my truck.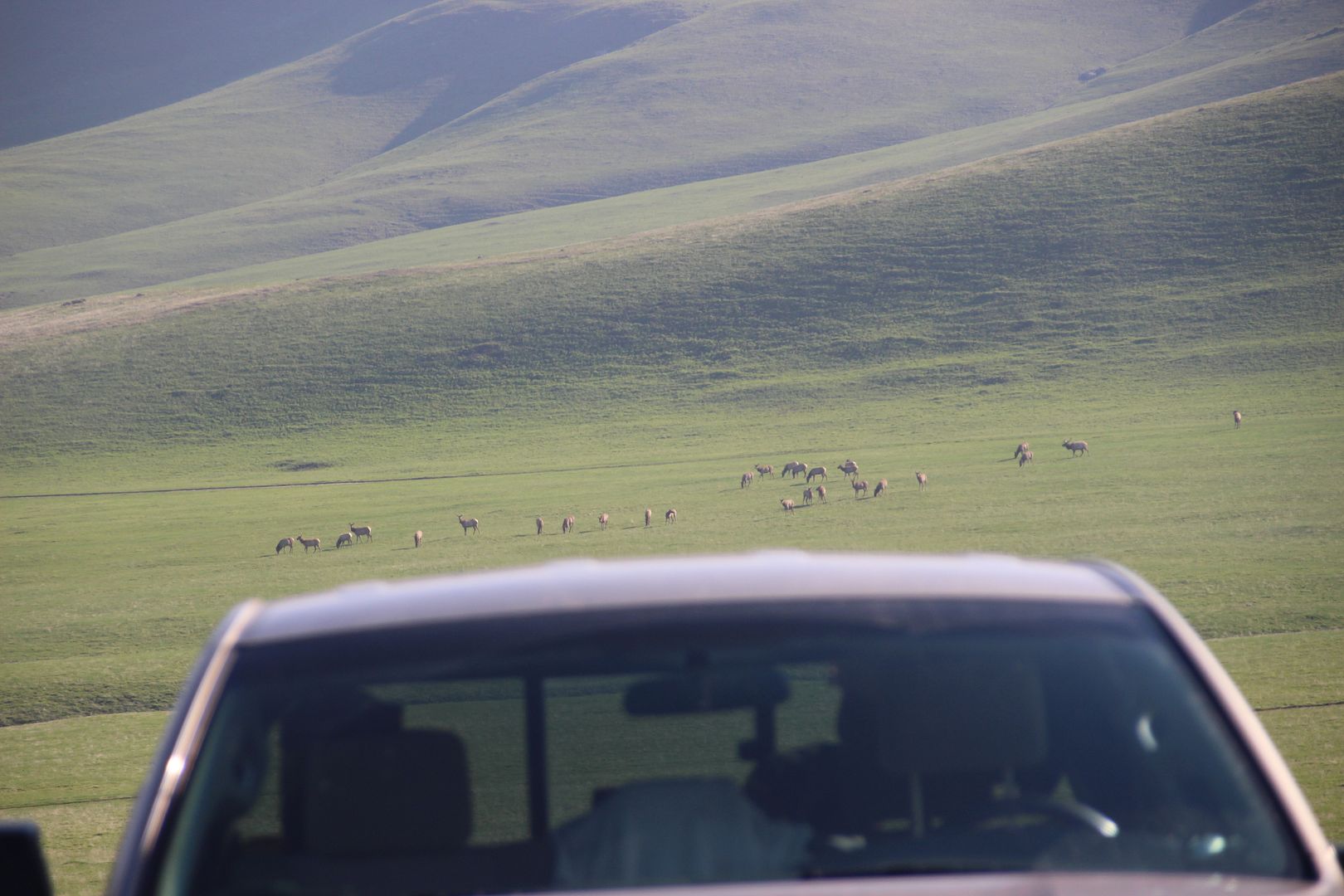 I drove about 1 mile and made another stand at a spot that was good to me two times last year.
I set my caller down below me about 40 yards away. I was laying prone on the ranch road with my 22-250.
I started playing Adult Rat distress sound and about 5 seconds later I spotted a coyote about 200 yards away standing there looking towards my caller. This coyote had to be laying in the green grass taking a nap in the warm sunshine when it heard my Adult Rat distress sound.
I switched sounds to Vole Squeaks on volume 20, after about 15 seconds the coyote started walking towards my Fury.
The coyote stopped walking when it was about 125 yards away. My 22-250 dropped the coyote straight down.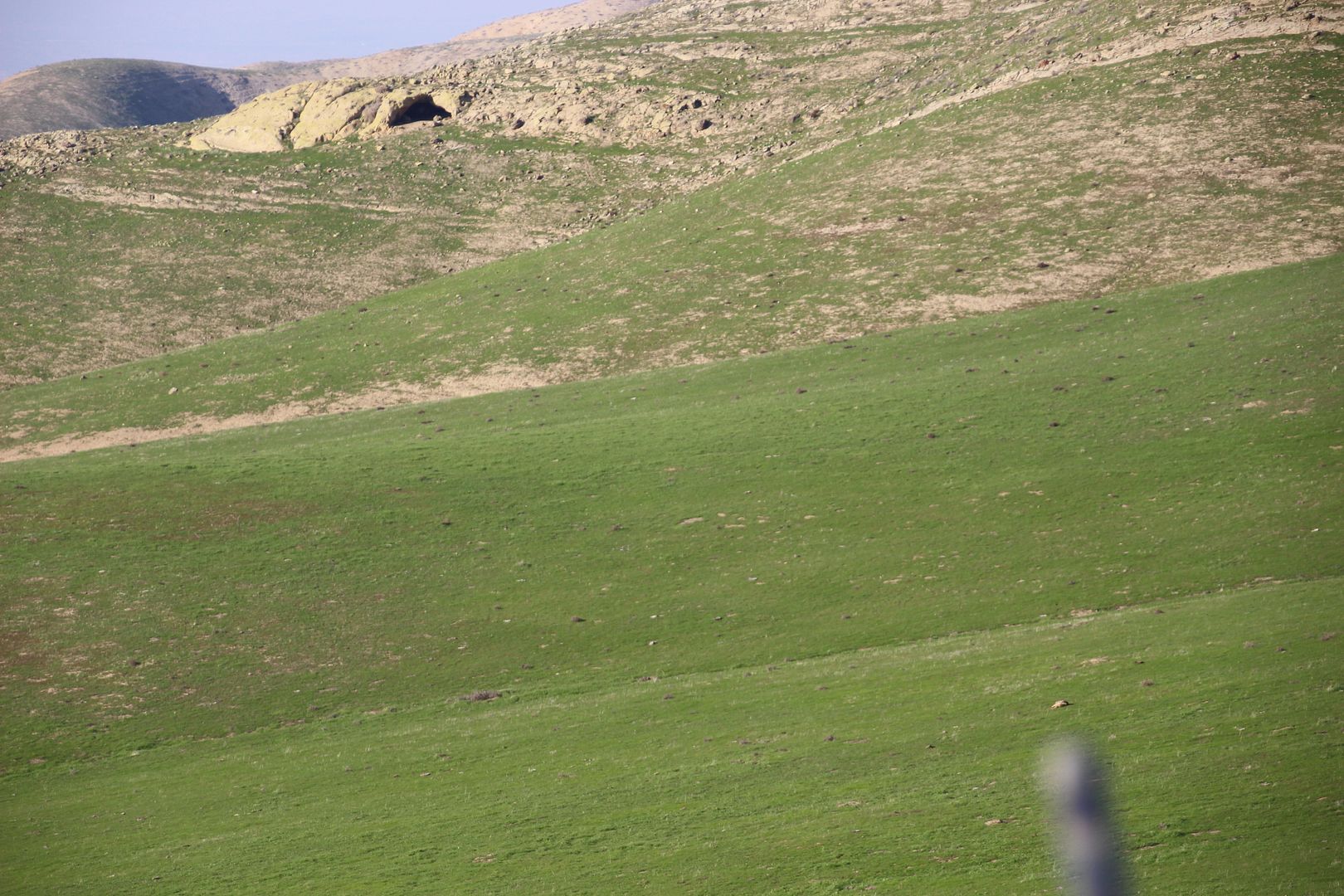 You can see the dead coyote just over my rifle barrel in the above picture.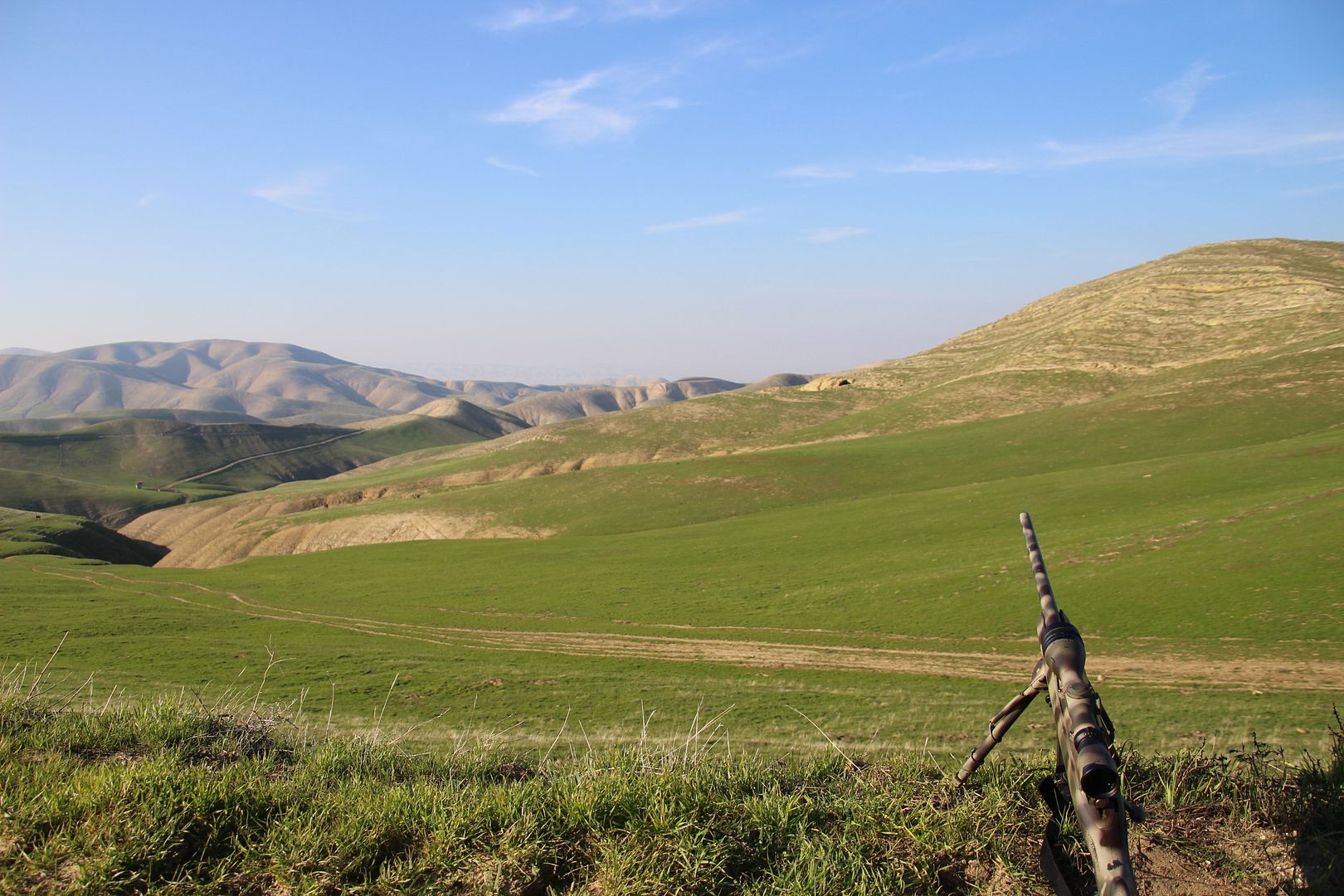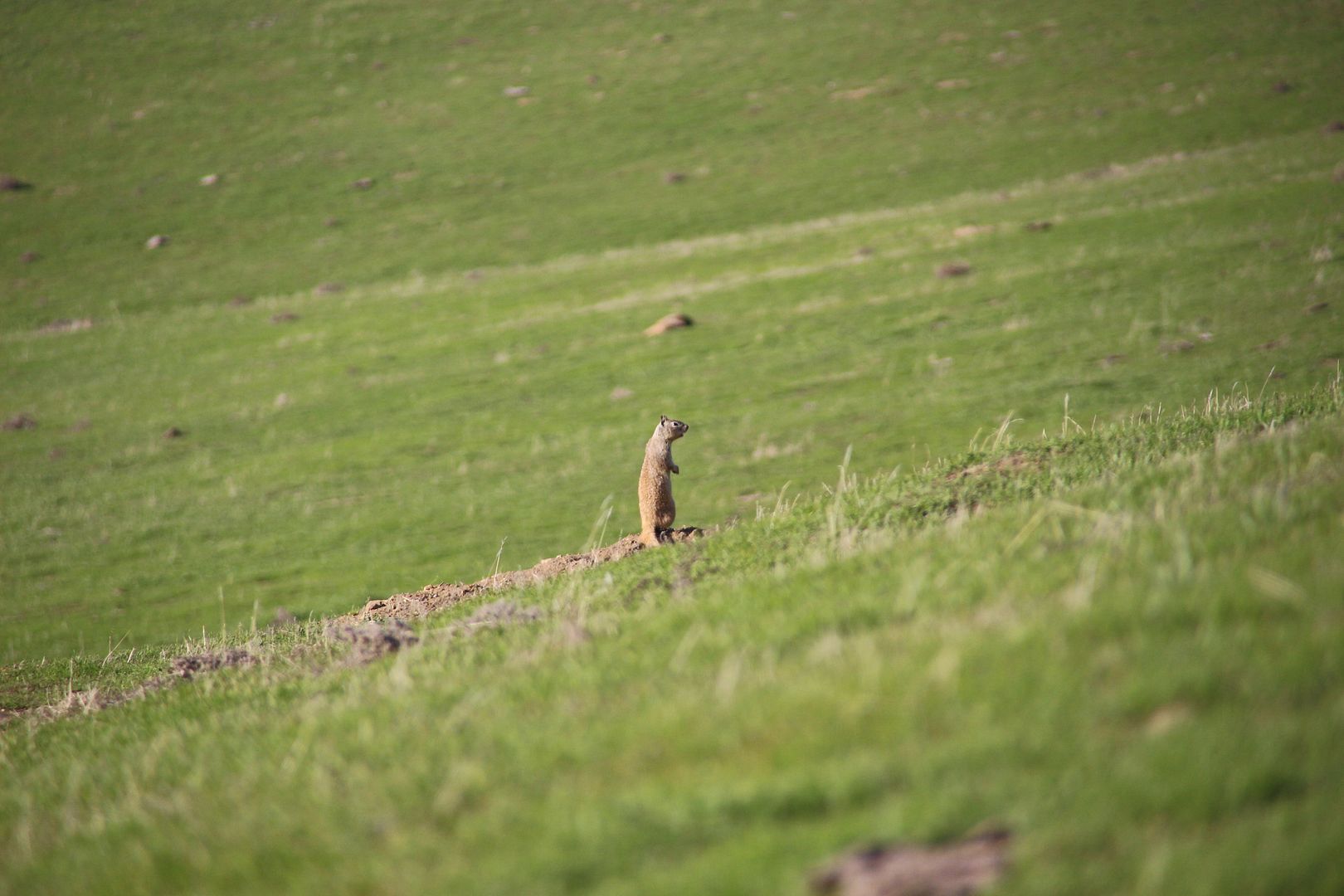 That is the dead coyote just over the ground squirrel.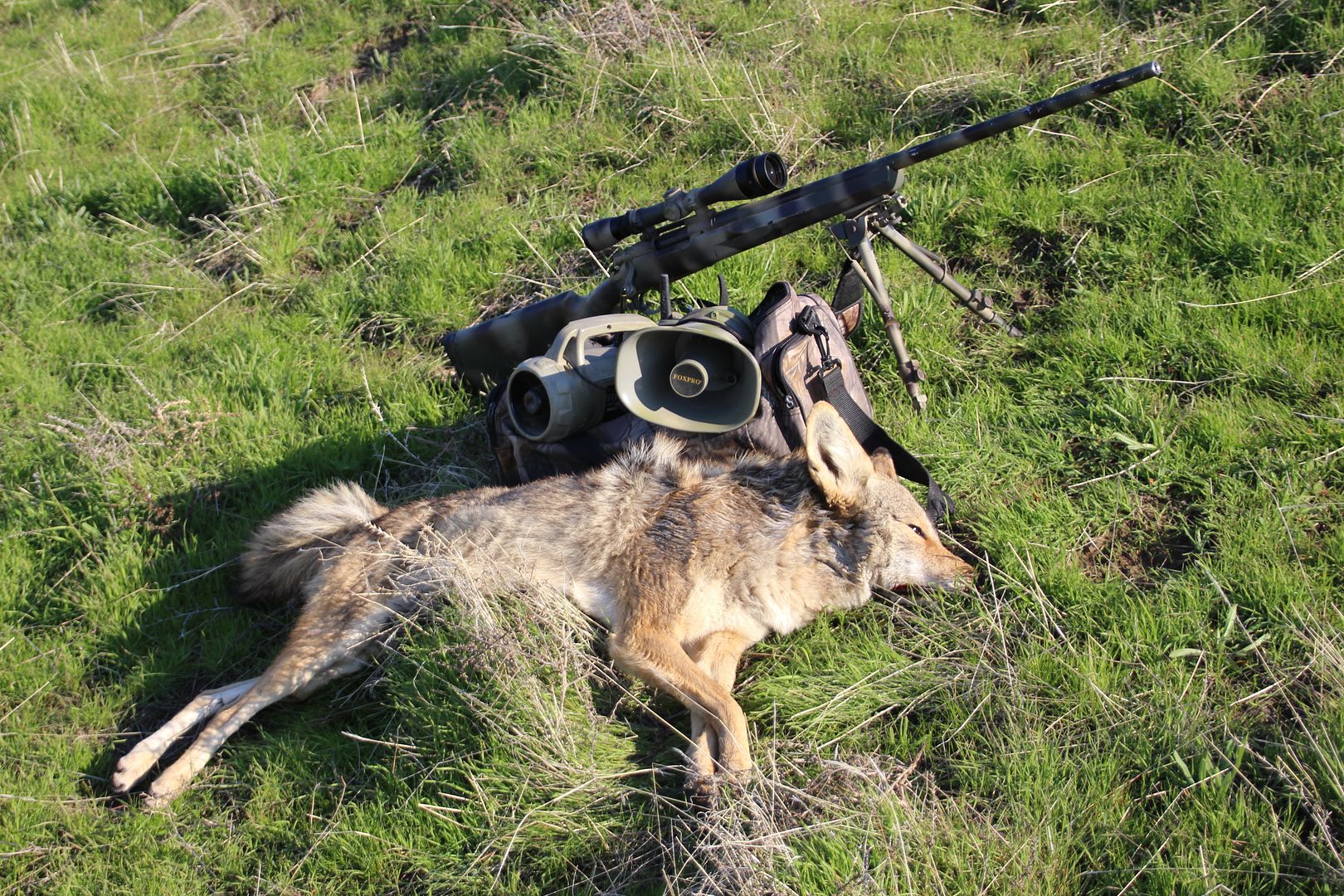 The next stand was about two miles away, I was laying prone on a little hill top with my Fury about 60 yards below me.
I started out playing Female Coyote Sore Howls 3 or 4 times for about 45 seconds each time.
Then I played Prairie Dog Distress for about 10 minutes.
I didn't hear any coyotes on this stand and it was going to be my last stand for the day.
I played Male Challenge 4 sound for about 45 seconds muted the Fury for about two minutes and then played Male Challenge 4 sound again for about 45 seconds.
Then I played Pup Distress 3 for about 15 seconds, switched to Coyote Growls for about 15 seconds and then Coyote Pup Screams for about 15 seconds with no pauses between the sounds. I had my Fury on full volume 40 and I kept switching between these 3 sounds playing them for only about 10 to 20 seconds with no pauses between sounds and in no particular order.
After about 3 minutes of doing this I saw a coyote hard charging towards my Fury in the shade of hills to my left.
When I went to mute my Fury I realized there was 4 coyotes hard charging towards my Fury.
Muting the Fury didn't stop them. They ran right by my Fury and up over the little hill I was laying on.
I was laying there thinking that I just had 4 coyotes run right by me and my caller and I didn't fire a shot.
I hit the mute button and Coyote Growls started playing again.
I felt sick, I was thinking how cool it would have been to be next to my Fury with my shotgun when those 4 coyotes ran right by my Fury.
A minute or two later on top of the hill to my left I saw two coyotes running around in the rocks. I adjusted my bi-pod out longer and found one of the coyotes that had stopped. I put the cross hairs just below his back and dropped him.
I didn't see the other coyote after I shot. 30 seconds to a minute later another coyote ran up on top of the hill and stopped so I shot that one too. This second coyote didn't drop straight down. I lucked out and found it dead on the other side of the hill about 50 yards away from where I shot it.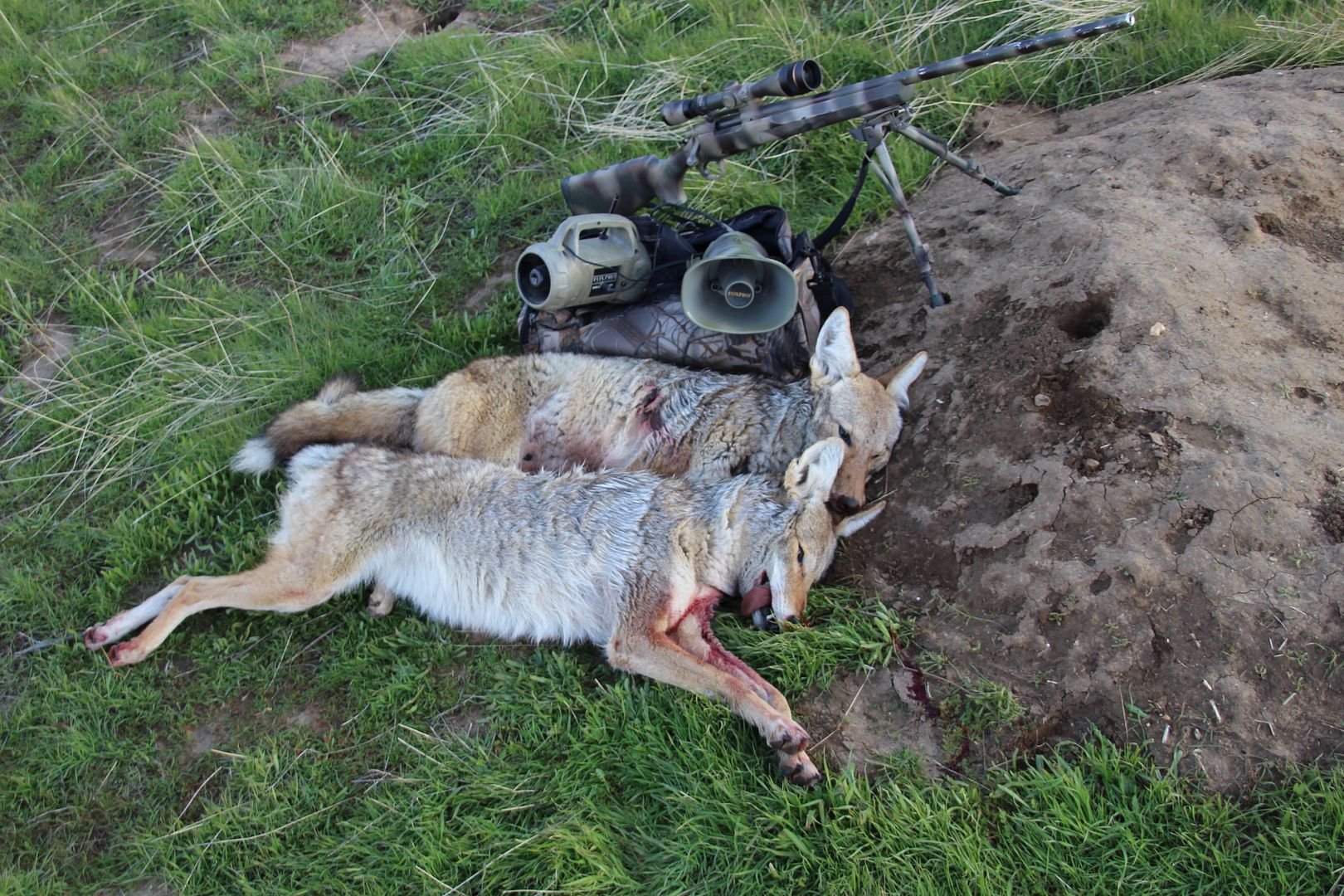 I was pretty lucky to end up getting two of the four coyotes and one of them ended up being a two pointer.
This playing the coyotes sounds on full blast and trying to make it sound like the mother of all coyotes wars has worked for me now quite a few times.