Yesterday my son and I went out calling coyotes and we got started at first light.
We made quite a few stands before noon and hadn't seen a thing and only heard some coyotes on one stand and they were a few miles away.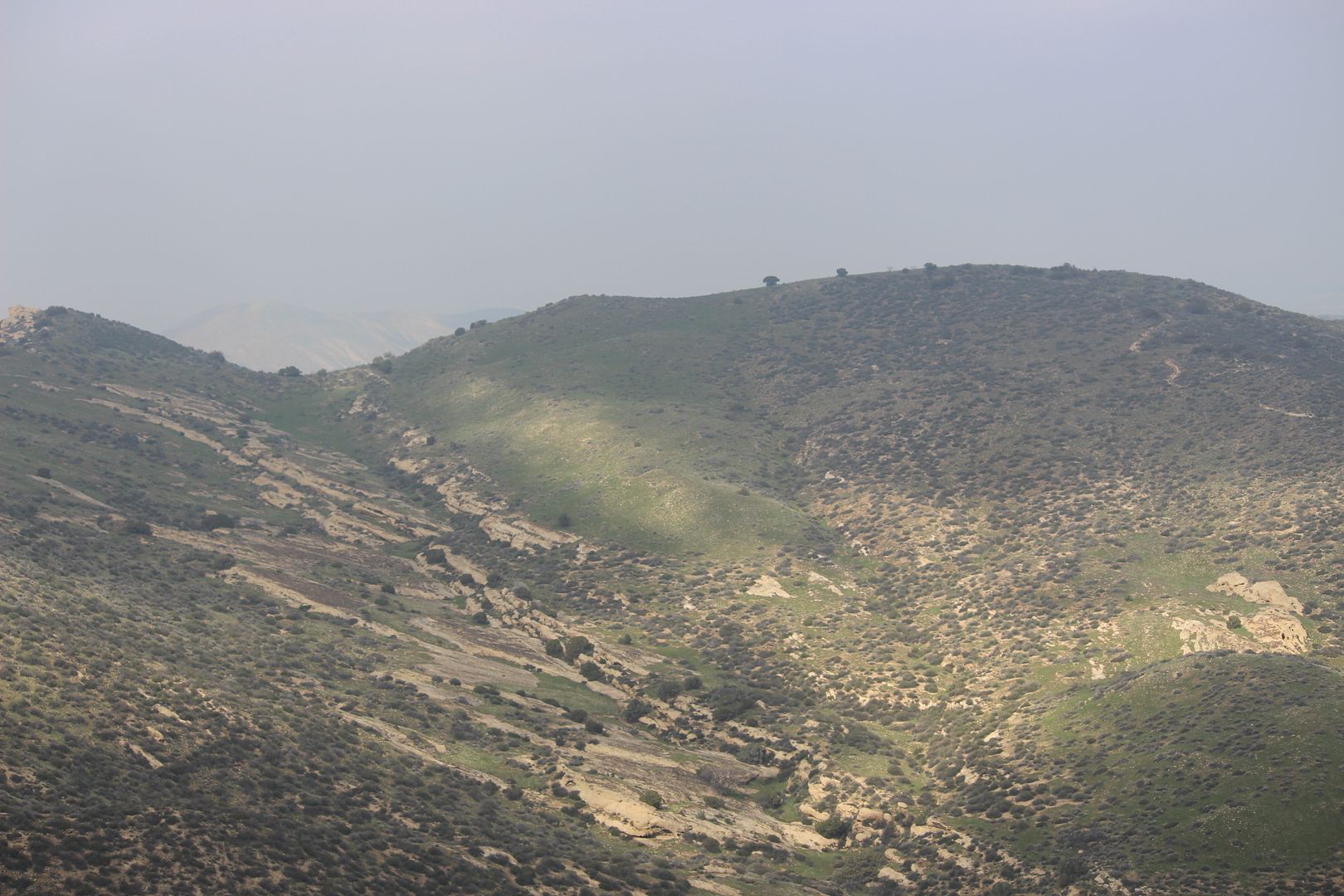 The above picture is the far ridge we were looking at, at the top of a huge canyon on the next stand that we were about to make.
I set my Fury about 20 yards below me and about 30 yards to my left. My son Wes was about 20 yards to my right. We were sitting just below the top of the ridge on a very steep mountain side. The top of the opposite side of the canyon was at least 1,000 yards away.
I started out with Female Coyote Sore Howls sound and after playing this sound for about one minute I muted the Fury.
Straight across the canyon on the other side of the ridge that was over 1,000 yards away we could barely hear some coyotes. We also heard some coyotes at least a mile away down our side of the canyon.
After a few more minutes of silence I played the Female Sore Coyote sound two more times and then muted my Fury.
We immediately heard a male coyote challenge us from on top of the ridge about 1,000 yards away. I immediately challenged him back with Male Coyote Challenge 4 sound and then muted the sound and that coyote went silent.
I thought maybe that coyote was heading our way.
After about 5 minutes of silence and not seeing or hearing anything I went back to the Female Sore Coyote sound and Immediately heard two or three coyotes screaming challenges at us and they were a few hundred yards down from the top of the opposite ridge.
I played Male Coyote Challenge 4 sounds and Female Coyote Challenge back at them for about 20 seconds each and then switched to Coyote Growls sound for about 30 seconds.
At the time I didn't know it but my son Wes had spotted the coyotes way across the canyon looking through his rifle scope.
Then I switched to Pup Distress 3 from the Coyote Growls Sound. I found out later from Wes that as soon as the two coyotes heard the Coyote Growls sound switch to Pup Distress 3 they started running down the mountain toward my Fury.
I didn't hear the coyotes anymore so I thought they maybe heading our way. At that time I didn't know it but Wes was watching them head our way.
A few minutes later I saw them about 400 yards away heading up our side of the canyon so I lipped squeaked at Wes to try and let him know they were coming to us. When I looked over at Wes I could see that he already had seen them because he was looking at them through his scope.
I was trying to get my 243 Win on these two coyotes that were running real fast up the mountain towards us. My long Harris bi-pod was not quite long enough so I put the right hand leg on my right foot.
These two coyotes didn't stop and I lost sight of them when they headed up the steep mountain about 150 yards below us.
Maybe 8 to 10 seconds later I could see the two coyotes heads moving through the brush about 70 yards below my Fury.
When the coyotes got to about 30 yards below my Fury one of them stopped behind some brush and I could see it's front shoulder and rib cage through an opening in the brush. I quickly pulled the trigger and heard the 55 gr Nosler Lead Free BT Varmint bullet hit meat.
We didn't even shoot at the other coyote because we didn't see it again until it was about 400 yards away and it was flying down the mountain.
I will never forget this stand calling coyotes with my son. It was a rush watching those two coyotes that wanted to fight fly up that mountain towards us.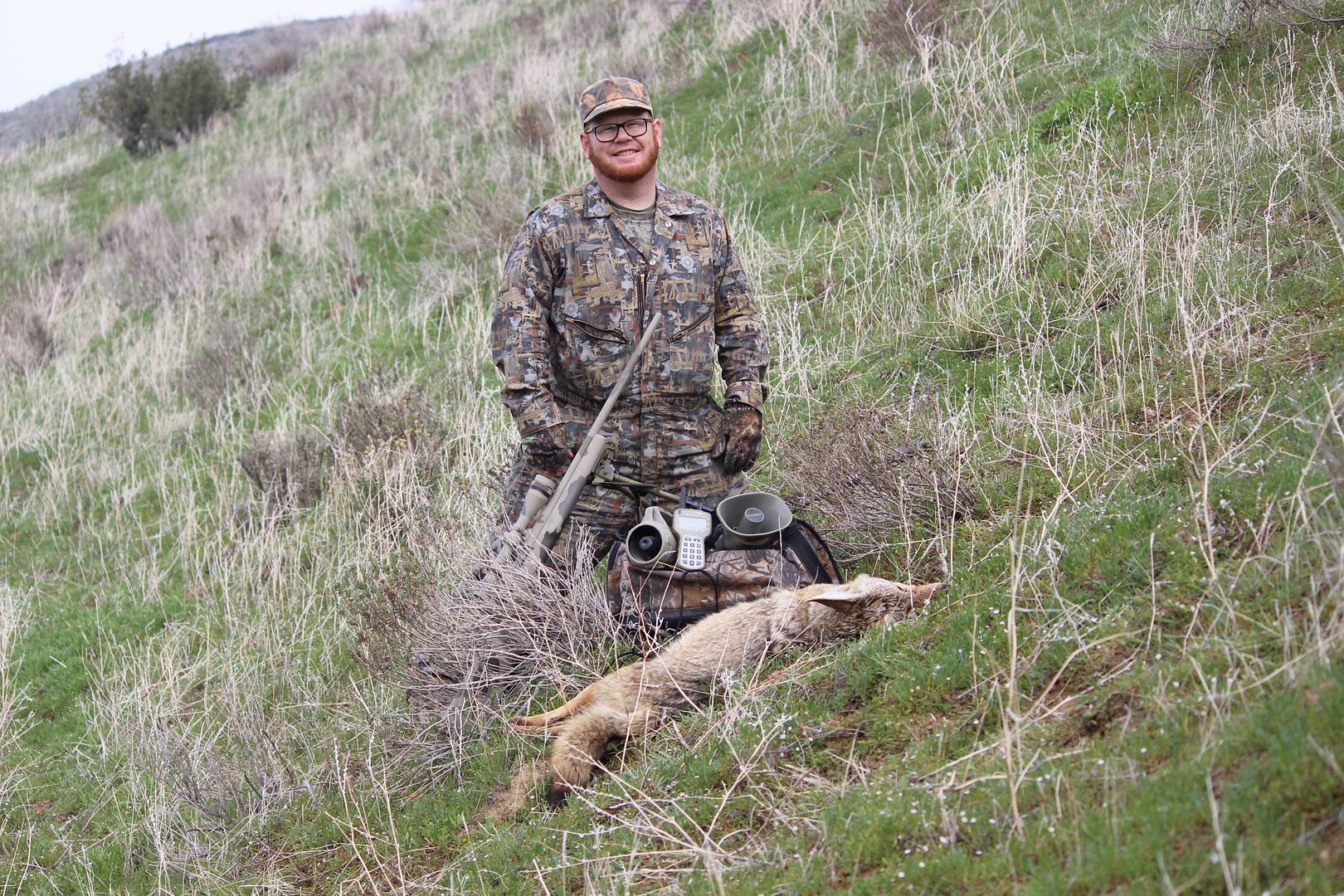 This picture is my son Wes with one of the coyotes that he got to watch come into my Fury. You can see that this mountain is pretty steep.
The next stand we went down the mountain or ridge top about a mile and started calling off of a ridge top. This was the general are that we had heard some coyotes on the previous great stand.
This time we were sitting in the shade of a juniper with shotguns because we could only see about 30 yards in front of us before the mountain top dropped off very steeply. My Fury was set about 15 yards in front of us
My truck was parked about 100 yards straight behind us, just over the mountain top out of sight.
I started this stand playing Bay Bee Cottontail. I had my shotgun in my lap and my camera in front of my face so hopefully I could get some coyote or bobcat pictures if one of the came over the ridge 30 yards in front of us.
Bay Bee Cottontail hadn't played 3 minutes when I heard and saw something straight to my right.
It was a coyote running about as fast as he could run about 10 yards from me and it was going to run between us and my Fury. I dropped my camera and yelled at Wes who was sitting right next to me on my left.
About the time I was grabbing my shotgun I saw another coyote was behind the front coyote. Wes shot over the lead coyote as I swung my shotgun very quickly and hit the second coyote at about 7 yards away.
The first coyote got away with only one shot being fired at it. Wes didn't have enough time to get a second shot fired at it.
These two coyotes came from over the ridge behind us and to our right. We think they were the coyotes we heard from the previous stand.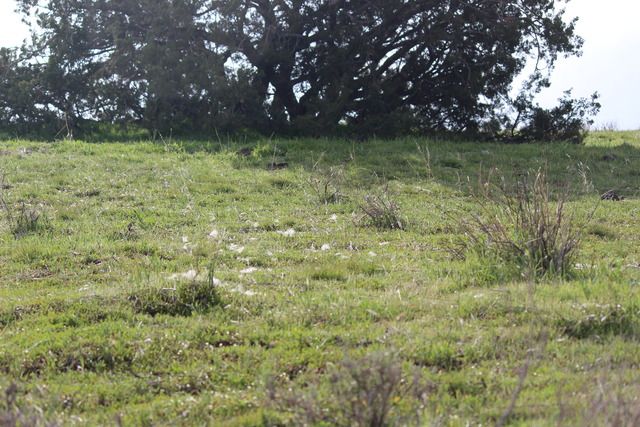 I took this picture just a little downhill from where the coyote got hit by my 3" 12 ga BB HD load. You can see the fur laying in the grass. We were sitting in the shade of the juniper in this picture. I don't think the pattern was very wide at 7 yards! LOL
The shot I made on this fast coyote at about 7 yards away was just like many of the Sporting Clays rabbit targets I have shot at in the past. LOL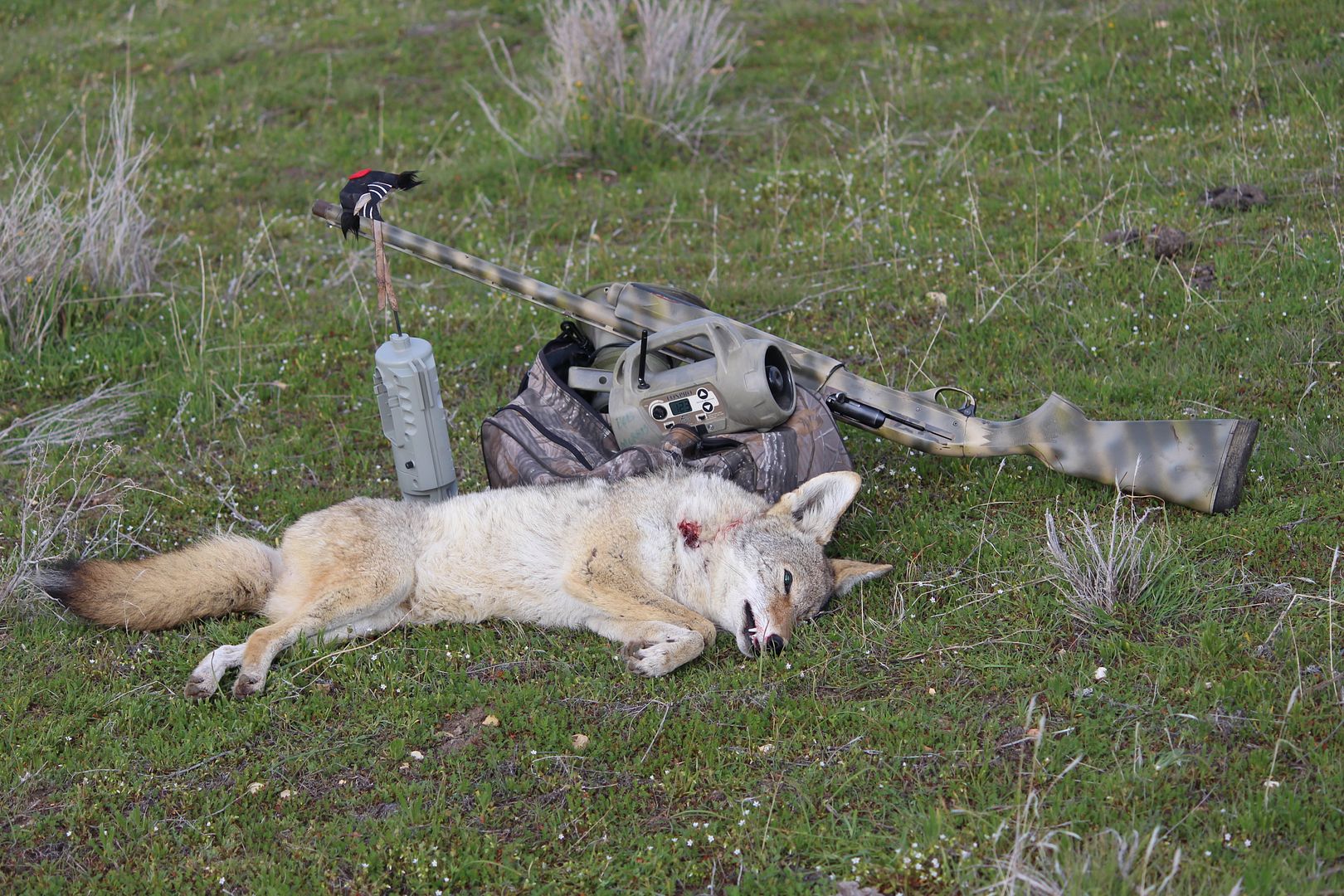 Here is a picture of the coyote I got with my shotgun. That blood on it's neck is the exit side.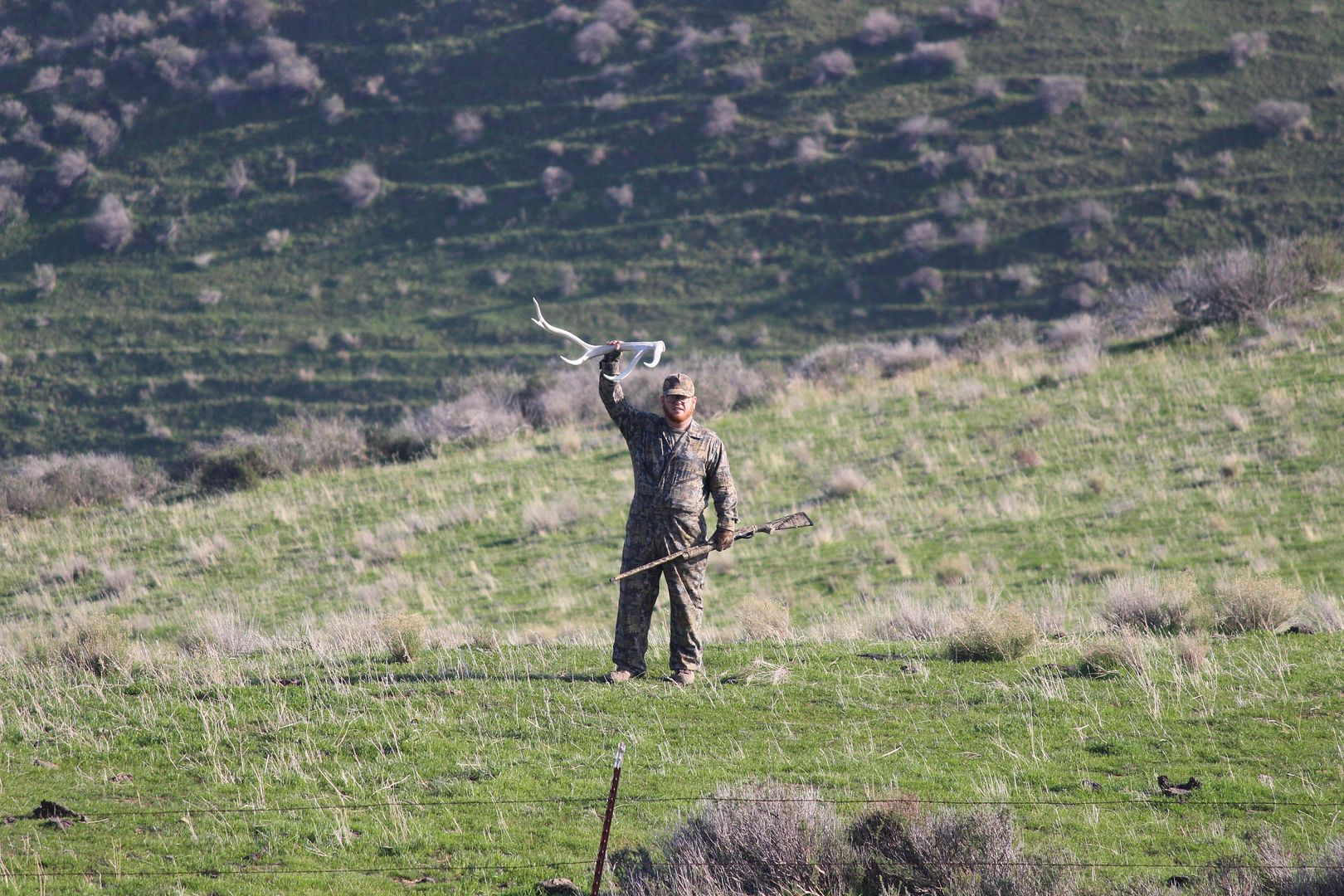 A few stands later Wes spotted this Tule Elk antler shed during a blank stand.
On the last stand of the day we set up in some flat sage brush country. I put the Fury in front of Wes about 20 yards away from him. I sat down about 20 yards to the left of Wes.
I had Bay Bee Cottontail playing for about 4 minutes when I saw a coyote on my left heading straight for the Fury that was in front of Wes. This coyote didn't look right to me. It stopped just a little ways from the Fury and Wes dropped it with his 12 ga.
This is a picture of the coyote Wes shot. It had mange, this is only the second coyote I have ever seen with mange.
Wes and I called for half the day and we were feeling pretty low because we were not seeing anything. We kept at the calling because we both know we never know when we can have a stand we will never forget.
Luckily we ended up with two stands we will never forget on a day that started out very slow.